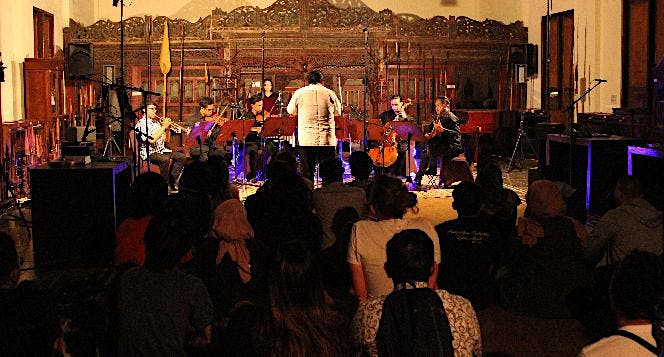 Pertemuan Oktober / October Meeting 2019
Rp 1.200.281
terkumpul dari Rp 43.000.000
8 Donasi 0 hari lagi
---
October Meeting is a contemporary music & musicians festival, which was initiated by Music Information Centre "Art Music Today" (Yogyakarta, Indonesia) and Trace21 Foundation (Netherlands). The full name of this event is "October Meeting - Contemporary Music & Musicians" (OM-CMM).

We want to make a fundraising for the realization of two October Meeting programs; Open Laboratory/Lab and Young Composers Series, both are focused on the involvement of young generation.

This fundraising purpose is to actualize some of our missions, two of them are:
1. Become a forum to guarantee the work continuity of Indonesian composers in general, and young Indonesian composers in particular.
2. Become a large laboratory for a wide variety of scientific research and activities.

The collected donation will be use for:
1. Accomodation expenses,
2. Food and Beverages expenses,
3. Transportation expenses inside the city,
4. Documentation expenses,
5. T-shirts making expenses for Volunteers and Participants,
6. Logistic expenses for Young Composers Series Concert and Open Lab Concert,
7. Identity Cards making expenses for Volunteers and Participants, and
8. Venue Rental expenses.

For those who want to help, please kindly donate by following this steps:
1. Click the "DONASI SEKARANG" button
2. Enter the donation amount
3. Choose the payment method via GO-PAY or bank transfer (BNI, Mandiri, BCA, BRI, BNI Syariah, or credit card) and transfer it to the available bank account number.

Not only by donation, you can also help us by sharing this fundraising page to your close people so that many people can join to help us.

If there is any question related to this fundraising, please contact this contact person number: +62 812-1547-7807

Thank you for the attention, prayer, support, and help, may God repay all of your kindness #GoodPeople #OrangBaik

October Meeting
Contemporary Music & Musicians
21 s.d. 25 Oktober 2019, Rumah Budaya Siliran & Museum Tembi, Yogyakarta

Email: octobermeetingcmm@gmail.com
Instagram: @octobermeeting
Youtube Channel: bit.ly/turningforwardtube

Event Profile:bit.ly/turningforward
Eventbrite: octobermeeting_turningforward.eventbrite.com

Disclaimer : Informasi dan opini yang tertulis di halaman campaign ini adalah milik campaigner (pihak yang menggalang dana) dan tidak mewakili Kitabisa.
Penggalangan dana ini mencurigakan?
Laporkan
---
Kabar Terbaru
---
Fundraiser
---
Donasi (8)
---