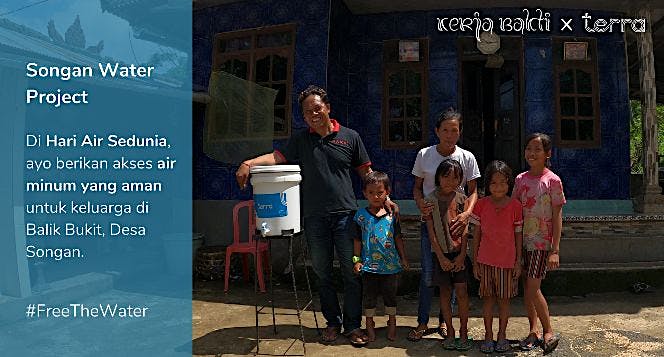 Akses Air Minum Aman untuk Desa Songan
Rp 6.836.243
terkumpul dari Rp 40.000.000
37 Donasi 0 hari lagi
---
Informasi Penggalangan Dana
---
[ENGLISH VERSION BELOW]
Memperingati Hari Air Sedunia, bersyukurlah kita yang memiliki akses air yang melimpah, namun di Desa Songan, khususnya 8 Dusun di Balik Bukit, tidak memiliki akses air tanah atau perpipaan dan selalu mengalami kekeringan. Air hujan hanya turun 3-4 bulan setiap tahunnya, ditampung dan dimanfaatkan untuk konsumsi sehari-hari.
(Foto: penampungan air hujan salah satu keluarga di Desa Songan)
Biaya air dari penyedia air lokal tergolong mahal dan tidak dapat diandalkan, sedangkan untuk mengambil air ke danau, mereka harus menempuh jarak 8 km, itu pun kualitas airnya juga sudah tercemar. Selama musim kemarau, kebanyakan warga menjadi pengangguran karena tidak bisa mengolah lahan pertanian mereka yang membutuhkan banyak air. Belum lagi pandemi covid-19 yang memperparah keadaan mereka di tahun 2020.
(Foto: potret anak-anak, lansia, dan perempuan di Desa Songan)
Anak-anak dan lansia menjadi rentan terkena penyakit.
Kenyataannya, pengetahuan warga Desa Songan akan pentingnya air bersih dan sanitasi juga masih sangat rendah. Hampir semua warga mengkonsumsi air dari penampungan air hujan secara langsung tanpa pengolahan lebih lanjut karena alasan waktu dan ekonomi. Akibatnya, tidak sedikit dari warga yang mengalami penyakit diare pada usia balita, ginjal di usia lanjut, atau penyakit lainnya yang berkaitan erat dengan buruknya kualitas air.

Ulurkan tanganmu dengan memberikan akses air minum yang aman untuk mereka di Hari Air Sedunia tanggal 22 bulan Maret ini!

(Foto: Donasi Filter untuk 18 Keluarga Pertama)

Dengan mendonasikan Terra Water, sebuah filter air minum alami yang dapat menyaring air tidak layak minum menjadi air yang aman diminum tanpa listrik atau bahan bakar, kami berharap untuk dapat meningkatkan kesehatan dan meringankan beban ekonomi yang dipikul oleh 100 keluarga di Songan. Mereka tidak perlu lagi minum air mentah yang membuat mereka sakit atau mengeluarkan banyak uang untuk air minum. Dengan kondisi fisik yang lebih sehat, warga pun tidak perlu mengeluarkan biaya kesehatan dan dapat melakukan aktivitas yang dapat meningkatkan taraf hidup mereka, seperti bekerja, belajar ataupun bermain.
(Foto: Ibu Dewi menggunakan filter air minum)
Yuk, berikan hadiah kecil bagi keluarga di Desa Songan dengan menyediakan akses air yang aman bagi warga Desa Songan agar mereka bisa lebih sehat dan hidup lebih baik.
Dengan mendonasikan Rp 400,000 kamu sudah bisa memberikan 1 Terra Filter serta pelatihan "Air dan Sanitasi" untuk 1 keluarga yang membutuhkan.
Dengan Terra Filter, setiap keluarga dapat menghemat sekitar 7 juta rupiah dalam 2 tahun.
(Foto: Edukasi Air dan Sanitasi untuk warga Desa Songan)
Saat ini, total keluarga di Balik Bukit, Desa Songan adalah 1,200 keluarga. Pada pengumpulan donasi kali ini, kami mengawali donasi dengan 100 filter air minum. Kamu dapat berdonasi dengan cara:
Klik "DONASI SEKARANG"
Pilih Bank Transfer Mandiri/BCA/BNI/BNI Syariah/BRI dan kartu kredit
Dapat laporan via email
Bantu share juga halaman ini agar lebih banyak doa dan bantuan yang terkumpul.
Informasi lebih lanjut: www.kerja-bakti.org dan www.terrawaterindonesia.com 
Tonton video penggalangan dana kami: www.bit.ly/videosonganwaterpro... 
---------------------------------------
In this World Water Month, we have a story to tell about people in Balik Bukit Village.
(Photo: Ibu Dewi, a mother from Balik Bukit, Songan Village)
This is Ibu Dewi, she lives in the small village of Balik Bukit, up near the Kintamani volcano about 70 kilometers from the center of Bali, Indonesia. Most days Ibu Dewi wakes up early in the morning to get water from her rain tank and boils it for several hours so her family has a day worth of drinking water. Often, they drink the water directly from the water tank or tap without cleaning it at all.
During the dry season, the conditions are worse because there is no rain at all. In order to get water, Ibu Dewi or her husband have to buy it from the bottom of the mountain, which is 8 kilometers away from the village. They spend 150,000 Rupiah for 750 liters of water, which is a lot for these families. In the dry season, Ibu Dewi's husband has no income from farming and will either have to manage the money they made in the rainy 3 months, or look for jobs outside of their regency. Meanwhile drilling to get well water in this village has not been done before because the area is so dry, therefore it may mean drilling hundreds of meters, which is costly and not guaranteed to work.
(Photo: Ibu Dewi's daughter takes water from rainwater reservoir)
Ibu Dewi's family is only one of 400 other families in Bali Bukit that does not have running water in the home at all. In Bali, as is the case in most of Indonesia, most people rely on existing water sources outside their home for drinking water, such as rain, rivers, or nearby wells. According to the Ministry of Health, 60% of the families that boil their water do not boil it enough to kill harmful bacteria and parasites that contribute to more than 10% of child mortality in Indonesia. The COVID19 pandemic has worsened the economic situation of these families and has brought to light the importance of access to safe drinking water, and basic water, sanitation, and hygiene for preventing the spread of disease.

Kerja Bakti and Terra Water have come together for Phase One of a multi-phase project to support Ibu Dewi and her village with easy-to-use, affordable, and culturally appropriate solutions to help her and her family gain access to safe drinking water.
(Photo: Distribution of the first 18 families of Balik Bukit)
Together we are delivering ceramic water filters and water, sanitation, and hygiene education to every family. Ceramic filters have been scientifically proven for over 40 years to drastically reduce child mortality due to dirty drinking water. They work by catching pathogens in the microscopic pores and then kill them using the antimicrobial colloidal silver. Terra filters are 100% natural, made locally in Bali, and require no energy, fuel, or electricity in order to turn dirty water into safe drinking water.

By donating 1 water filter you will:

Save a family up to 7,3 million rupiahs in 2 years. That is 2,9 billion rupiahs for the whole village of Balik Bukit
Provide families an additional 5 extra hours a day, time that can be spent on economic or educational activities.
Reduce 30.4 kg of CO2 emissions due to boiling water from the environment, over time significantly reducing climate change and deforestation.
(Photo: Ibu Dewi uses Terra Water Filter to make safe drinking water)
Providing access to safe drinking water for a family has been proven to save families time and money, provide economic opportunities especially to women as they are usually responsible for water in the home, increase educational opportunities for children since healthy kids can go to school, and literally, save lives.

We need your help to provide this basic human right to Ibu Dewi and her village! Donate now for the first 100 water filters of this project! Together, let's #FREETHEWATER.

Click "DONASI SEKARANG"
Choose Bank Transfer through Mandiri/BCA/BNI/BNI Syariah/BRI or Credit Card
Get the report to your email
Share this page for bigger impact!
More information: www.kerja-bakti.org dan 
Watch our crowdfunding video: www.bit.ly/videosonganwaterpro... 
Disclaimer : Informasi dan opini yang tertulis di halaman campaign ini adalah milik campaigner (pihak yang menggalang dana) dan tidak mewakili Kitabisa.
Penggalangan dana ini mencurigakan?
Laporkan
---
Kabar Terbaru
---
---
Donasi (37)
---
Fundraiser