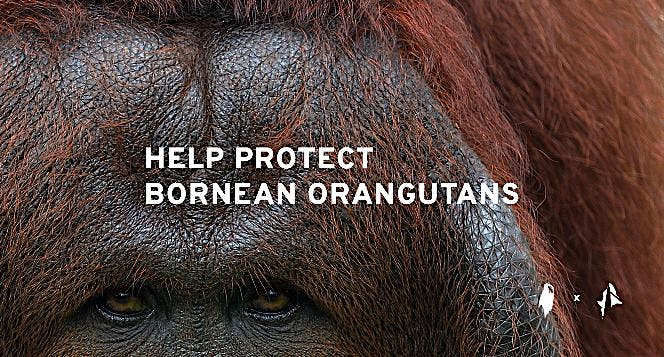 Help Protect Bornean Orangutans
Rp 3.453.776
terkumpul dari Rp 10.000.000
51 Donasi 76 hari lagi
---
Informasi Penggalangan Dana
---
"SUMBU x AKSU for Orangutan"

www.sumbuxaksu.com

In collaboration, SUMBU - a platform exploring the environment, lifestyle sustainability, positivity, and mindfulness - and AKSU - a fashion brand valuing culture, art and nature - are creating a campaign to raise fund and awareness for the Borneo Orangutan Survival Foundation (BOSF). Through this donation, we aim to help contribute to BOSF conservation programs to protect Orangutans and its natural habitat.

The population of wild Orangutans has declined by more than half in the last 50 years, and approximately 80% of their natural habitat has been lost in the last half century.

Humans threaten their survival due to illegal hunting, illegal wildlife trade and habitat destruction from illegal logging, oil-palm plantations, forest fires, mining and small-scale shifting cultivation.
Orangutans share 97% of the same DNA as humans, and are an important umbrella species that help maintain and sustain forest ecology. Well-managed forests generate clean air, fresh water, both wood-based and non-wooden products, and help regulate the climate. Forests depend on Orangutans, therefore humans depend on Orangutans to keep forests thriving.

Due to the current pandemic, BOSF has been closing its Orangutan rehabilitation centres around Kalimantan to the public, volunteers and researchers for several months. Despite these closures, their post-release monitoring (PRM) team is still conducting daily routine patrols in the forest and observing Orangutans with extra measures required.

The funds collected from this donation will be allocated to:
- Supporting BOSF protect Orangutans in their natural environment
- Helping protect Orangutan rehabilitation program
- Maintaining and sustaining forest ecology; Well-managed forests generate clean air, fresh water, both wood-based and non-wooden products, and help regulate the climate
- Supporting the local economy and empower its community surrounding Orangutan habitat

You may also help by sharing this fundraising page to your close peers and contribute in raising the awareness.

For more inquiries regarding this fundraising, feel free to contact us via email at [email protected] or [email protected]

Thank you for your prayers, support and assistance.

_____

ABOUT SUMBU
SUMBU first started as a platform to allow people to explore and understand more about the environment and to raise awareness to its protection. It quickly turned into a brand revolving the lifestyle of sustainability, optimism, positivity, mindfulness.
www.sumbuforearth.com

ABOUT AKSU
AKSU is a fashion brand that reflects to creative enthusiasts who appreciate originality, uniqueness and conceptuality that are kindled by culture, art and nature. The name, which stands for 'Akar Suara', reflects on the clothes' raw-contemporary characteristic that maintains essences of strong roots and originality of the Indonesian heritage. 
www.aksu.site

ABOUT BOSF
Established in 1991, the Borneo Orangutan Survival (BOS) Foundation is an Indonesian non-profit organization dedicated to the conservation of the Bornean Orangutan and its habitat, in cooperation with local communities, the Indonesian Ministry of Forestry and international partner organisations. The BOS Foundation is currently taking care of almost 700 Orangutans with the support of 400 highly devoted staff, as well as experts in primatology, biodiversity, ecology, forest rehabilitation, agroforestry, community empowerment, education, and orangutan healthcare. 
www.orangutan.or.id
Disclaimer :
Informasi, opini dan foto yang ada di halaman galang dana ini adalah milik dan tanggung jawab penggalang dana. Jika ada masalah/kecurigaan silakan
lapor kepada kami disini.
Penggalangan dana ini mencurigakan?
Laporkan
---
Kabar Terbaru
---
---
Donasi (51)
---
Fundraiser